Tue 6 May 2008
Checking in here from the Land of Bluegrass! Max and Erma are flourishing! Max has gained ten pounds! I don't know where he puts it, he still looks rail thin to me. We went to the Vet the other day and Max was a perfect gentleman. There were two Chihuahuas yapping away and Max just watched them with an amused look on his face. The Vet was amazed that he was a rescue because he was so level headed. He rolled over on his back and let her cut his sutures out without so much as a wiggle.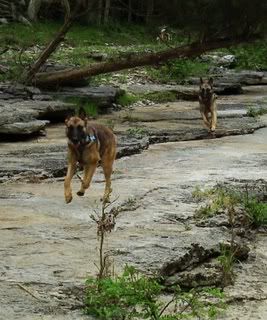 I have a friend that owns 1200 beautiful acres of Kentucky's finest scenery that is completely fenced in. On the property there is a trail that meanders around a creek. Its the perfect playground for Malinois! Max and Erma ran like the day would never end, never getting more than 50 yards from us. Erma loves the water and will plow right in. Max wasn't sure at first. He would race up and down the bed barely dipping his toes in. It wasn't too long before Max was diving in right alongside Erma. She couldn't have all the fun!


As we were walking we notice a metal plate in the water. My son pointed it out to Max and convinced him to go get it. Max noticed the shiny plate in the water and he and Erma pawed at it enthusiastically. When it became obvious that pawing at the water was not the most efficient way to retrieve the plate Max buried his face in the water and burst out of the water sputtering and proudly laid the plate at my feet. Wagging his whole body, ready for me to toss it back in!
The walk was not with out incident of course, I was traveling with Malinois! As we were coming up to one of the pastures Max noticed COWS! He took off across the pasture like a rocket was tied to his back, my children racing behind him screaming his name. I was hurrying along, careful not to break a hip, Erma at my side, a look of sympathy on her face as she watched me struggle.
Like a miracle sent from God just about 20 feet from the cows, Max came to a dead stop. His barks ceased, his head down. I thought my hoarse cries had found his mercy. No such luck. The cows were moving and like a well trained border collie Max bolted to the left, barking but keeping distance from the cows. It was surreal. My poor little Hoarder dog turned a herd of 20 cows away from the creek and through a gate into a pasture. As I huffed along, Erma encouraging me, I was still convinced it was a case of chasing coincidence. The cows knew the pasture was a safe place and ran there when the dog chased them. My theory was dashed as Max turned like a cat stalking a bird, his head down, and then bursting out in a flurry of barks and action to move the stragglers, two cows with their calves that had run the other way, to join the herd. By then my winded son, terrified the cows would remove Max's head with a well placed kick slammed the gate shut behind them. Max tried to look professional. Lapped at the water. No big deal. You know I am a herding dog.