Sat 5 Apr 2008
EMERGENCY HELP IS NEEDED – Living in small cages in their own waste, these two beautiful Malinois' were seized from Hoarder in a raid. This young female & male pair need emergency foster home to save from dying at the kill shelter who is currently housing them. They are located in North Florida…young, sweet, scared..
It was a call that could not go unanswered. I could move this, clean out that, we could make room for two more, right? Long story short…
Welcome to Kentucky Max and Erma!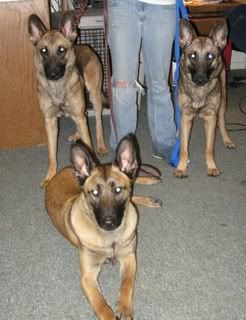 Today is Day Five and so far the only hint of an accident was Max's attempt to baptize the kitchen Island. My kids are sure the dogs have potty trained me rather than I training them. Any hint of interest in the back door and every few hours it's outside to potty! I race home on my lunch hour and any whimper at 2 am gets my full attention. We all parade outside and I am the resident cheerleader. Go Team! Go! Ella humors me, trots out and squeeks a dribble out and the other two follow suit.
The last two days it has rained buckets. My backyard is officially designated The Mud Pit. In Kentucky a horse that races well in the mud is referred to as a Mudder, I have three true blue Mudders on my hands! The love it! They slip and slide, roll and wrestle, and basically wallow in the mud. Now the rinse before coming inside, that not so much.
We play ball everyday and Max has really gotten the hang of it. He gives Ella a run for her money. He will bring it back and drop it at my feet. Every now and then Erma gets the ball and just runs around the back yard gleefully. I see the other two roll their eyes and wait for her to lose interest and drop it somewhere so the game can start again.
They are both eating well now. They are learning everyday. They settle down quickly if its just one loose and eventually when they are all loose. Max likes to sit next to me at the computer whereas Erma wants to sit ON me at the computer. I have yet to hear either bark but Max did whisper bark once. They never make a peep from their crates. I wish they could teach Ella that trick…
Stay tuned for more updates.
Colleen
4 Responses to " The Pitter Patter Crash of Little Feet "
Trackbacks & Pingbacks: